DACHSER European Logistics – Solutions for your European supply chain management
With our comprehensive European road transport network of systems and charter services, as well as a uniform structure of branches, subsidiaries, and partner companies, we will support you in fulfilling your logistics requirements reliably and cost-effectively across all industries. We transport your groupage, both full and partial loads in the industrial and consumer goods sector, as well as managing your procurement and distribution, both Europe-wide and nationally. Individual solutions using DACHSER Contract Logistics allow for a flexible combination of transport, storage, and value-added services.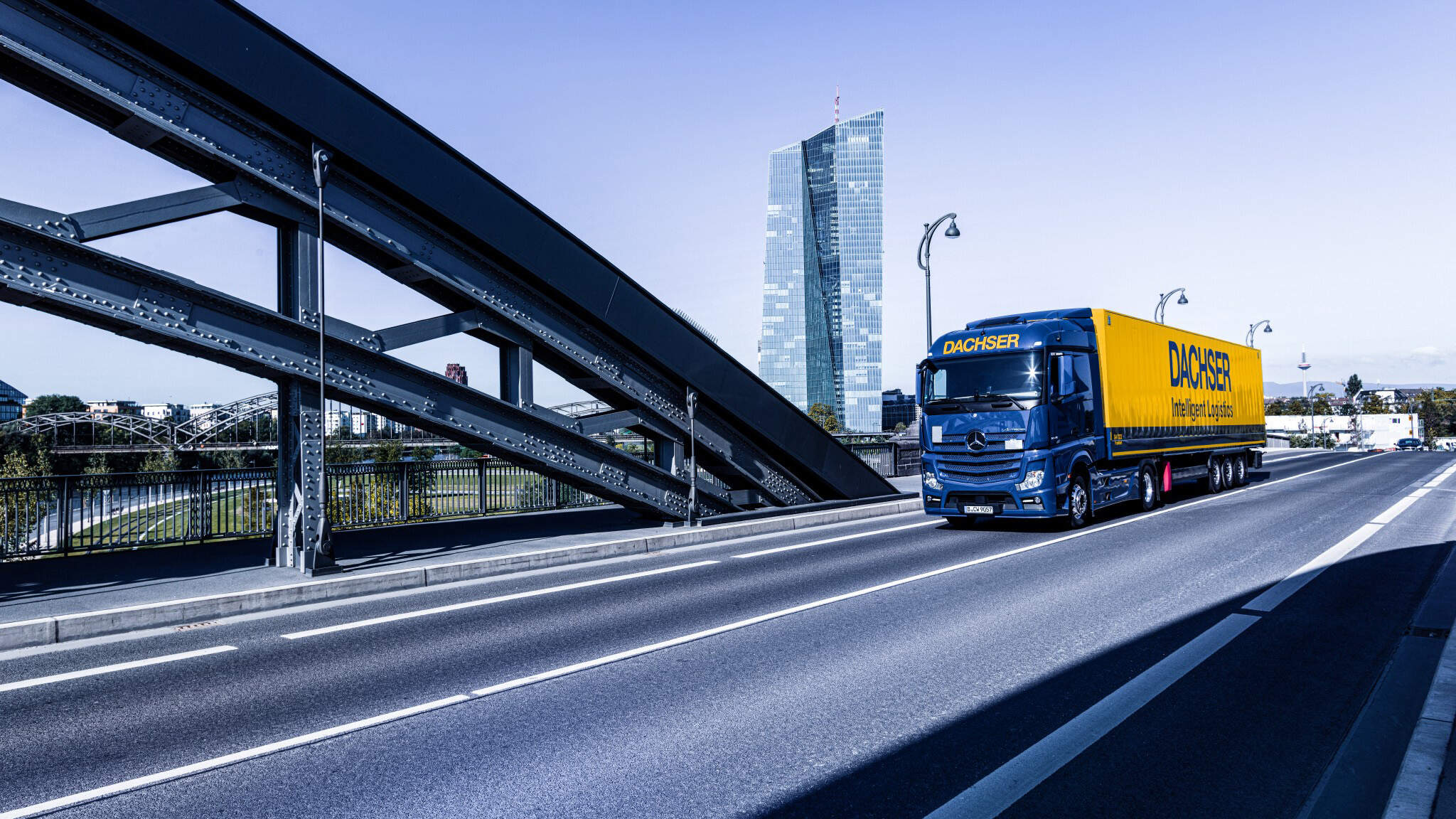 Daily connections and precise transit times for the whole of Europe
DACHSER European Logistics offers direct scheduled services throughout Europe with fixed and reliable departure times. This precisely-timed scheduling ensures a high degree of planning security: Daily connections and precise transit times enable you to order and control your shipments with DACHSER European Logistics in line with your requirements, at the right time and at the best price. Comprehensive coverage within Europe is primarily achieved through an intelligent combination of mainly system and direct services, with our Eurohubs and platforms acting as logistics hubs alongside. Fixed, standardized processes ensure a reliable presence and availability during holidays and seasonal peaks.
Intelligent IT solutions support your goods' transport
With high-performance IT we map all logistics processes along the supply chain, ensuring that your goods' transport is transparent and secure. Seamless tracking across the entire supply chain (Tracking & Tracing) is enabled through systematic barcode scanning at every interface.
The advantages of DACHSER European Logistics:
Dense, comprehensive European groupage network
Individually tailored solutions for freight transport
Country-specific market knowledge
Standardized performance standards in all DACHSER branches
Constant monitoring of transport performance data using our IT solution ActiveReport
High delivery frequency throughout Europe
Accurate transit times via the eLogistics productpilot
B2C solutions with targo-on-site
DACHSER European Logistics in detail
On the path to success with DACHSER Procurement Logistics
Our strengths in distribution logistics are also reflected in procurement logistics. With efficient processes as well as a consistent, automated flow of information along the entire logistics chain, DACHSER Procurement Logistics offers absolute planning security, the fastest possible response times and transparency. In its tower function, a DACHSER branch acts as the main point of contact and coordinator for the movement of your goods. Automated and consistent information flows along the entire logistics chain allow high-level transparency and enable fast response times.
Reach your destination faster with Eurohubs and platforms
We connect Europe daily. With Eurohubs in Überherrn (Saarland), Bratislava (Slovakia) and Clermont-Ferrand (France), we ensure the fast, efficient and secure handling of your flow of goods. Your groupage shipments are handled via an intelligent combination of direct and system transport services. This combination saves time, costs and capacities, and enables smooth and efficient shipping across all borders.
Our promise: Service of the highest possible quality
DACHSER European Logistics assures the highest quality and safety standards at every stage of the supply chain. Our branches adhere to uniform performance standards and quality criteria. Customers can rest assured that all DACHSER locations work according to the same rules and procedures. Our decentralized branches are based in close regional proximity to our customers. This ensures quick response times, while our personal Customer Service Teams act as the first point of contact on site.
The perfect solution for your groupage freight in European logistics
With the entargo product family, we cover all service requirements for national and European LCL and groupage and consolidated transport.
We also offer tailored solutions for the DACHSER Chem Logistics (chemical shipments) and DACHSER DIY Logistics divisions. A partial and full-load service, tailored to meet the exact requirements of each customer, completes the range of transport services.
With the DACHSER Cargoplus transport service, we get your goods to their destination far beyond Europe's borders. With our network we currently ship to Turkey, the Maghreb and the CIS. In addition, DACHSER Air & Sea Logistics integrates a smooth connection to the worldwide air and sea freight network.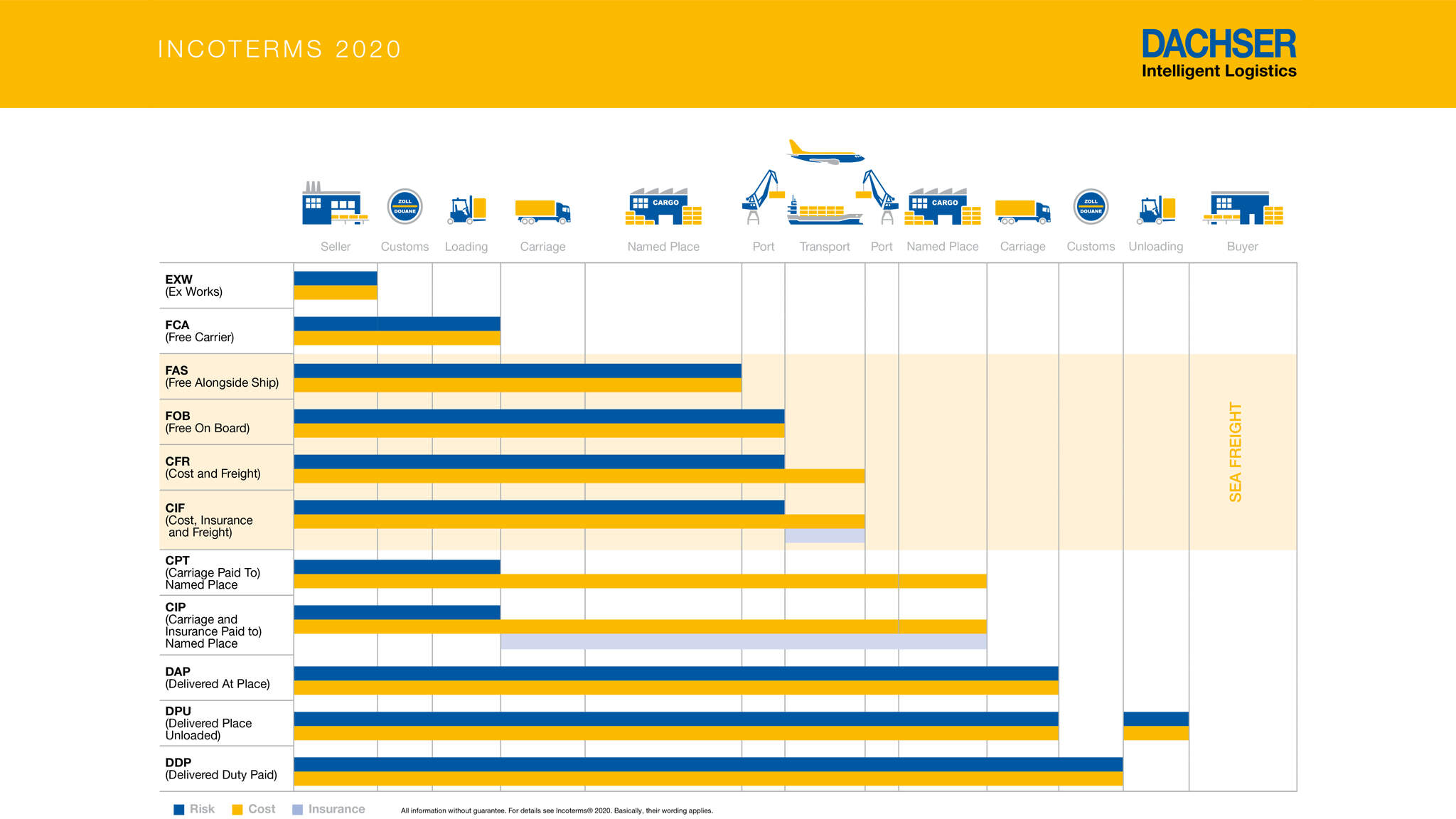 Incoterms
The PDF gives you (without legal guarantee) an overview of the Incoterms 2020 in order to support you in your daily work.
Download